Badland Wireless Winch Remote Control Review 69229 (B0155SCRT8)
We may earn a commission for purchases using our links. Learn more
Winches come in many parts that are easy to install and use. While every part plays an important role in the smooth operation of the winch, the remote control is arguably the most crucial. Winch remote control provides you with an easier and safer method of winching your vehicle out of a sticky situation. Safety is crucial because when winching, the cable is under a heavy load, and if it snaps, it can cause serious injuries.
Most winches come with wired remote controls. While they are great, they offer a limited safe distance. A wireless remote like the Badland Wireless Remote Control 69229 is better. You've probably seen off-roaders hyping this particular wireless remote control as a good replacement for wired remotes. But is it worth the attention it's getting? How does it perform, and what features make it ideal for off-road use and general winching?
Let's take a deep dive into what this Badland wireless winch remote offers.
Range
The Badland Wireless Remote Control 69229 winch has a 50 feet range. With a 50 ft. range, you'll get to a safe distance when winching. While it's not the best range we've seen in wireless remote controls, it's better than some with 20 and 30 feet ranges.
Even though some wireless remote controls have longer ranges, we find 50 feet is a good range since it's not too far away from the vehicle/ electric winch – you can still see the details of the winch in action. If the cable is piling up, you can stop the pull, adjust it, and then ensure proper reel-in and storage.
Efficiency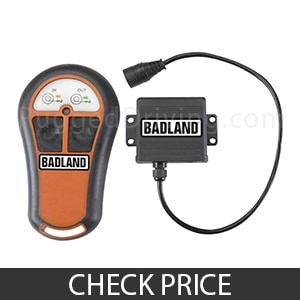 The Badland Wireless Remote Control 69229 is simple but efficient. It comes with a control lead and the actual remote. There are only two modes, power-in, and power-out, to control winch operation.
Now, if you are coming from using a wired remote control, be prepared for some delays with the wireless remote control. When you press the control buttons, give the winch time to respond to your command.
Pressing the buttons multiple times can lead to some problems in use as the control box gets jammed with signals.
We also love that the actual remote control is small and can fit in the pocket easily. But if you choose to put it in your pocket between winching sessions, make a point of switching off the controller box. If you don't, you run the risk of accidentally pressing and activating the winch from your pocket, especially if you have other items in your pocket as well.
Unfortunately, without storing the remote in your pocket, you'll find yourself forgetting where you placed it and spending a lot of time looking for it. Some wireless controllers have a magnet you can stick to the side of your car, making it hard to lose, but the Harbor Freight winch control doesn't. So what do you do?
Luckily, it has a space on its end you can pass a lanyard through and wear it around your neck. Ensure the lanyard is long enough to hold the wireless remote in front of your face and operate.
Weather Resistance
Going off-road is run and exciting, but you need to be ready for loads of unexpected scenarios. Getting a winch goes a long way in ensuring you don't get stuck, but you need an equally weather-resistant remote control.
The Badland Wireless Remote Control 69229 has a weather-resistant receiver that plugs into the control lead. With this waterproof rating, you can use the remote control in light rainfall. However, it's crucial to remember it's not completely waterproof, so you shouldn't get it soaked. Waterproof or not, moisture and water are bad news for any electronic, as they might short circuit.
Ease of Use
Since it comes with only two buttons, the wireless remote control is easy to use. In addition to this, the setup is easy to install. All you need to do is plug the remote receiver into the port where the remote control was plugged in, and you are set.
The remote control operates on lithium-ion batteries, which are small, safe, and high-performing. Even better, the batteries are easier to maintain. However, the batteries can overheat when the remote is used for a long time.
The wireless remote is compatible with the Badland 12,000 lb, 9,000 lb, and 6,000 lb. That being said, there are reports that it does work with the Badlands 5000 winch as well. This is great for off-roaders with Badland winches, but it can be limiting for those with different winch brands.
We are in the process of researching Badland 2500 winch remote, as well as Badland ATV winch remote (electric atv winch). This will most likely be covered by a universal wireless winch remote control. Stay tuned for this!
Safety Use
The wireless remote comes with a list of safety instructions and warnings. Below are some of what you should expect:
Only operate the remote controls when the winch and the winch cable are in sight
Always stand clear of the fairlead, cable, and winch when connected. Always have the bystanders steer clear of the winch in use too.
Always disconnect the control box from the Badland winch before service and after each use
Only use the remote control with a vehicle-mounted recovery winch
During installation:
Disconnect the winch's power
Confirm the plug on the winch is compatible with the remote control's plug
Choose an area on your vehicle to install the remote's receiver. This spot should be close to the winch to allow cable connection
Follow the manual for installation
Reconnect power to the winch
Note: It's important to read through the manual before installation, even if you've used a different wireless remote before. The instructions might be different and specific to this Badlands remote control.
We Like
Affordable and efficient
Reliable and safe addition
Provides 50 feet of range
Enough to help you with traversing rough terrain
Easy to install and use
Weather-resistant receiver
Reliable lithium-ion polymer battery
Lightweight and simple design
Keep This in Mind
It'd be nice if the wireless winch remote was compatible with other winch models
Honestly, the Badland Wireless Remote Control 69229 doesn't have an insanely beautiful design or fancy features, but it's functional and practical. The 50 feet of lead it provides is a bonus and offers good safety too. On the downside, its compatibility with other winch models is limited. And of course, it is just a part of the puzzle – you need a powerful motor to power the winch.
Related reading:
Other resources:
Badlands 3500 Winch Wireless Remote
120v winch wireless remote control
How to Install a Badland Winch
Badland Wireless Winch Remote Control 69229 (B0155SCRT8)
As our Badland Wireless Remote Control review will show, it doesn't have an insanely beautiful design or fancy features, but it's functional and practical. Badland Wireless Winch Remote Control
Product Brand: Harbor Freight Tools
Pros
Affordable and efficient
Provides 50 feet of range
Easy to install and use
Weather-resistant receiver
Reliable lithium-ion polymer battery
Lightweight and simple design
Cons
It'd be nice if the wireless winch remote was compatible with other winch models
Hi, my name is Joe, and I'm the Founder and Editor behind Rugged Driving.
I made this site to share what I have learned as an off-road enthusiast. I hope my personal experience will help you enjoy this exciting activity even more!